Shipbuilders Council of America Announces Annual Safety Awards for 2023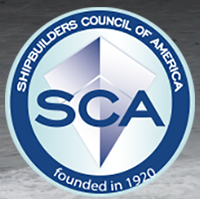 Winning Shipyards Received Award for Excellence in Safety, Award for Improvement in Safety, and Award for Significant Safety Achievement
WASHINGTON – The Shipbuilders Council of America (SCA), the national association representing the U.S. shipbuilding, maintenance and repair industry, today announced its yearly member safety awards for 2023. The awards are given to deserving members of SCA recognized for their achievements in safety.
"Workforce health and safety is embedded into the fabric of our industry because the teams that work in our shipyards and throughout the industrial base are the most important asset we have in building and repairing the U.S. commercial and military fleets," said Matthew Paxton, President of the Shipbuilders Council of America. "Each year SCA honors the member facilities that go above and beyond to uphold the highest safety standards and improved safety practices throughout their organizations and this year's winners have demonstrated superior safety achievements."
SCA recognizes shipbuilding and repair organizations with the "Award for Excellence in Safety" and the "Award for Improvement in Safety" every year for enhancement of operations and promotion of safety and accident prevention. The "Award for Significance in Safety Achievement" honors shipyards that saw 0 fatalities and had a total recordable incident rate (TRIR) of under 1.0.
In order to qualify for SCA's annual safety awards, member organizations must submit the SCA Injury & Illness survey for all four quarters in order to be eligible for a safety award. Additionally, they must have had zero fatalities and either have a TRIR below the SCA average or reduce their year on year TRIR by 10 percent or more.
Year over year, TRIR in the shipbuilding and repair industry continues to decline – a significant achievement over other heavy building and manufacturing industries.
The following shipyards and repair facilities were recognized for their safety practices this year:
Award for "Significance in Safety"
Cascade General, Vigor Portland (Portland, Ore.)
Metal Shark Boats (Jeanerette, La.)
Philadelphia Ship Repair (Philadelphia, Pa.)
Vigor Fabrication (Portland, Ore. Metro Region)
Award for "Excellence in Safety"
Alabama Shipyard (Mobile, Ala.)
Austal USA (Mobile, Ala.)
BAE Systems Jacksonville Ship Repair (Jacksonville, Fla.)
Bollinger Shipyards (Lockport, La.)
Cascade General, Vigor Portland (Portland, Ore.)
Conrad Shipyard (Morgan City, La.)
Fincantieri Marinette Marine (Marinette, Wisc.)
Metal Shark Boats (Jeanerette, La.)
Metal Shark Franklin Shipyard (Franklin, La.)
MHI Ship Repair & Services (Hampton Roads, Va.)
Philadelphia Ship Repair (Philadelphia, Pa.)
Southwest Shipyard L.P. (Channelview, Texas)
Vigor Alaska (Ketchikan, Alaska)
Vigor Fabrication (Portland, Ore. Metro Region)
Award for "Improvement in Safety"
Austal USA (Mobile, Ala.)
Colonna's Shipyard, Inc (Norfolk, Va.)
Conrad Shipyard (Morgan City, La.)
Eastern Shipbuilding Group (Panama City, Fla.)
MHI Ship Repair & Services (Hampton Roads, Va.)
Philadelphia Ship Repair (Philadelphia, Pa.)
Southern Oregon Marine (Coos Bay, Oregon)
Vigor Alaska (Ketchikan, Alaska)