Become an 
SCA

 member to have access to the latest industry news, exclusive industry events, and shipyard safety and health information. Please fill out the form below. Shipyard Application    Partner Application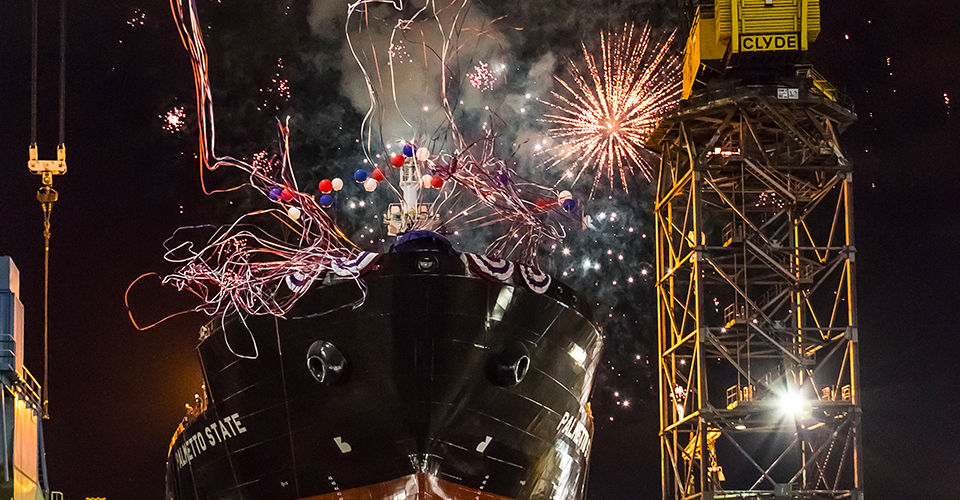 SCA Shipyard Membership and SCA Partner Membership
As an SCA Member, you are invited to attend all of SCA's meetings and functions, where you can discuss issues affecting the industry and make valuable business contacts. SCA holds three General Membership Meetings per year.
You may serve on any of our standing special committees, where the fundamental work of the association is accomplished.
You are added to the association's weekly newsletter, The SCA Weekly Report, that will keep you informed of the latest developments across the industry and in our association and will receive timely SCA Budget Alerts throughout the legislative cycle.
You receive legislative and regulatory position papers and valuable statistical surveys. You may also elect to receive SCA Safety & Health Committee email updates, as well as attend the annual SCA Safety and Health Seminars.
You are entitled to use the SCA logo in your advertising and on your stationery and business cards.
SCA Shipyard Members are classified as companies that have one an operational shipyard they use to construct, repair, or maintain vessels. SCA Partner Members are members that do not have a shipyard, but are industry suppliers of equipment, parts, labor, design, etc.
SCA Partner Members pay annual dues based on the member company's annual sales to the maritime industry. Sales shall be certified by a corporate officer or the SCA representative.
SCA Members pay annual dues based on the number of "Assessable Employees" at all shipyard facilities under the same corporate ownership for the previous year ending September 30. Employment must be verified by a corporate officer or the SCA representative.
Additionally, shipyard members are required to provide annually a list of major purchasing points of contact. This list is for SCA members only and available on the members only portion of the SCA website.
SCA Mission
The Shipbuilders Council of America (SCA) is the national trade association representing the U.S. shipyard industry. SCA members constitute the shipyard industrial base that builds, repairs, maintains and modernizes Navy ships and craft, U.S. Coast Guard vessels of all sizes, as well as vessels for other government agencies. In addition, SCA members build, repair and service America's fleet of commercial vessels. The Council represents companies that own and operate shipyards with facilities on all three U.S. coasts, the Great Lakes, the inland waterways system, Alaska and Hawaii. SCA also represents the partner companies that provide goods and services to the shipyard industry.
Our mission is to unify the industry and serve as the definitive shipyard industrial base advocate in Washington, D.C. and around the country. SCA keeps its members informed on all matters important to their growth, profitability and success involving legislative, regulatory, and policy matters and represents members before Congress, Executive Branch agencies and departments, public policy organizations and industry associations.
SCA General Membership Meetings
SCA holds three general membership meetings per year to provide a platform for our members to come together and address the issues facing the industry. The Spring Annual Membership Meeting is always held in Washington, D.C. and enables SCA members to reach out to Congress directly and advocate for the shipyard industry as a group. Fall General Membership Meetings are held in a different location each year in close proximity to member shipyard for facility tours. The Winter General Membership Meeting is held in Florida and is also host to the SCA Annual Golf Tournament. Each meeting provides an excellent networking opportunity for all SCA members.
National Ship Repair Industry Conference (NSRIC)
In addition to the three General Membership Meetings, SCA also hosts the National Ship Repair Industry Conference (NSRIC) in Washington, D.C. The conference, which is open to the maritime repair industry, is co-sponsored by the five ship repair associations: the Port of San Diego Ship Repair Association (PSDSRA), the Virginia Ship Repair Association (VSRA), the Jacksonville Area Ship Repair Association (JASRA), the Puget Sound Ship Repair Association (PSSRA) and the Ship Repair Association of Hawaii (SRAH). The conference focuses on the important role of repair, maintenance and modernization in the shipyard industry and featured speakers from the U.S. Navy, U.S. Coast Guard, Congress and industry. The cooperation amongst all the ship repair organizations and the government serves as a vital asset in developing the advocacy platform for maintenance and modernization.
Safety and Health Seminars and Awards
SCA members benefit from our engagement with OSHA and other regulatory agencies to promote high standards of health, safety and environmental awareness throughout the industry. In addition to hosting annual safety meetings to keep our membership updated on the latest regulatory developments, SCA also tracks member safety records in quarterly injury and illness surveys. Participants in the surveys can earn both Improvement in Safety and Excellence in Safety Awards annually.
Policy and Budget Resources
SCA members have access to exclusive legislative, regulatory and budget reviews and funding tables as well as valuable statistical surveys. These documents include in-depth evaluations of current U.S. Navy, Coast Guard, and Maritime Administration budgets and programs, Administrative and legislative policy affecting the Jones Act and regulations impacting the shipyard industry.
Weekly Government and Industry News
The SCA Weekly Report is published every Friday and reports on the week's government and industry news of interest to our members. Topics include budget developments, legislative and policy updates, offshore energy news, studies and reports, international news of interest, personnel updates and upcoming industry events. The Weekly Report is the foremost industry publication that highlights industry news and is exclusively available to SCA members.